> Pacientes de outras localidades - Medical Tourism in Brazil - Plastic Surgery [ENGLISH VERSION]

O Brasil é a capital munidial da cirurgia plastica. Muitos de nossos pacientes vem de outros estados ou países para o Rio de Janeiro, com objetivo de realizar suas cirurgias plasticas com nossos médicos. A Clínica BIOPLÁSTICA fica no bairro da Tijuca, no Rio de Janeiro, localizada a cerca de 8km do Aeroporto Santos Dumont. Entre em contato com nossa clínica pelo tel (021) 2284-1721 e saiba mais a respeito das diversas opções de cirurgia plástica disponíveis em nossa clinica.
1 - O CONTATO INICIAL com a clinica
Viaje para o Rio de Janeiro e passe por uma consulta diretamente com nossos cirurgiões Recomendado para os pacientes que possuem condicões de viajar e/ou preferem conhecer nossos médicos e clínica previamente antes de tomarem sua decisão a respeito da cirurgia
ou
Entre em contato com a clínica BIOPLASTICA no tel (021) 2284-1721 e converse diretamente com nossos médicos
Nesse caso o paciente pode ligar para nossa clinica no telefone (021) 2284-1721 ou 3547-8621 e conversar diretamente com nossos médicos, que irão esclarecer suas duvidas sobre a cirurgia estética desejada, exames pré operatorios necessarios para sua cirurgia plastica e a duracão da sua estadia no Rio de Janeiro após a sua cirurgia, para uma recuperação adequada. Para melhor avaliacão do seu caso, mande um e-mail para endereço de nossa clinica: minhacirurgiaplastica@hotmail.com, informando a cirurgia plastica estetica desejada e fotos de suas mamas,seguindo as recomendações abaixo.

- Tire as fotos de suas mamas em frente para um fundo escuro.
- As fotos das mamas devem ser tiradas abrangendo a regiao entre ombros até abaixo do umbigo.
- Deixa a maquina fotografica nivelada nos mamilos - não tire a foto apontando a maquina para cima ou para baixo.
- Tire fotos frontais e laterais das mamas conforme as fotos abaixo.
- Envie um e-mail com as fotos para minhacirurgiaplastica@hotmail.com e ligue para nossa clínica no tel (021) 2284-1721,informando a cirurgia plastica de mama pretendida ( mamoplastia, aumento dos seios com protese silicone ou mastopexia )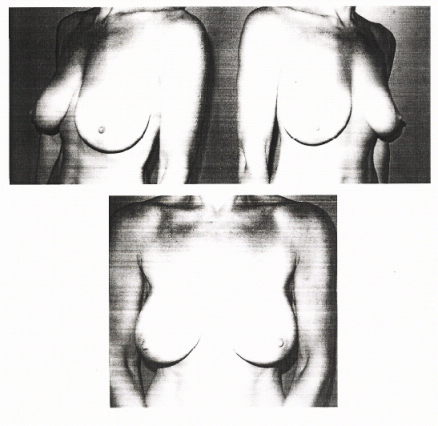 2 - O AGENDAMENTO DE SUA CIRURGIA PLASTICA
Apos o paciente tiver decidido qual cirurgia plastica deseja realizar em nossa clinica, o mesmo deverá ligar para Tel: 021-2284-1721 e realizar o agendamento de sua cirurgia plastica estetica desejada. Durante o contato inicial serão definidos as datas disponiveis para cirurgia , o depósito antecipado ( via depósito bancário, cartão de crédito ou pay-pal) necessario para reserva do centro cirurgico e, o pagamento final que sera efetuado na consulta pré operatória. Quando o paciente chegar ao Rio de Janeiro é realizada a consulta pré operatória onde o paciente passa por um exame medico com o cirurgião e tem seus exames pré-operatórios checados. Nessa consulta o paciente poderá esclarecer todas as suas duvidas sobre a cirurgiaplastica de mama a ser realizada. No dia seguinte, se não houver nenhum impedimento, é realizada a cirurgia estética desejada.
3 - RECUPERAÇÃO DA CIRURGIA PLASTICA DE MAMA
Os pacientes de outras localidades, devem planejar ficar no Rio de Janeiro por um período de aproximadamente 10-15 dias, para um adequado acompanhamento pos operatorio. Na casualidade de o paciente necessitar de assistencia médica após seu retorno para casa, nós podemos lhe encaminhar para um médico em sua localidade a fim de realizar exames de check up necessarios ao seu caso. E, claro, estamos sempre abertos para nossos pacientes que queiram retornar para consultas de revisão, sem quaisquer custos adicionais. A saúde e segurança de nossos pacientes são nossa prioridade número um.

> Plastic Surgery in Brazil - Medical Tourism in Brazil - Cosmetic Vacations - Plastic Surgery tourism

Brazil is known to have the best plastic surgeons on the planet. We receive patients from all over the world that wants to do breast augmentation and other types of plastic surgery in our clinic. Are you interested in having plastic surgery with our doctors at BIOPLASTICA but fear it is impossible to manage due to your location? Fear Not! Many of our patients seeking for plastic surgery fly in from all over the world. We have perfected the "fly-in patient" package, making it virtually possible for all prospective patients to manage. Our clinic is conveniently located just minutes from Santos Dumont Airport (Rio de Janeiro Airport), you can fly-in alone or with loved ones, and we will walk you through a process that will ensure complete care and a comfortable, pleasant plastic surgery experience.
Fly home beautiful! Plastic Surgery at bioplastica clinic is easy as One, Two, Three!
Step One - The Initial Contact with the clinic
Fly-In For A Personal Consultation And Exam at our clinic in Rio de Janeiro, Brazil
( ideal for tthat type of patient who can afford to travel and/or who prefers to meet with the doctors and staff before deciding to do the plastic surgery. During this consultation our doctors will explain all the aspects involved in the surgery. )
or
YOU call our office at +55 (021) 2284-1721 and talk directly with Our Doctors
So many of our patients fly in from across the country and around the world that we've developed the Virtual Consultation System. It´s actually very simple. For this, the patient should take 4 pictures of her breasts as described below and write an e-mail to minhacirurgiaplastica@hotmail.com with the photos attached describing her measurements and what kind of plastic surgeries she wanted to have done. Then call our office and ask to talk directly with our doctors, that will analyze your picture.

* INSTRUCTIONS FOR SENDING IN YOUR BREAST PHOTOS:
- Keep the camera level in the nipples - do not shoot downwards or upwards
- Take photos in front of a non-descript background
- Photos should be taken from just above the shoulders to above the belly button
- Please take frontal and side view of breasts as shown in the picture.
- Send an e-mail to minhacirurgiaplastica@hotmail.com describing the plastic surgery desired with the breast pictures attached. Contact our clinic at +55 (021) 2284-1721.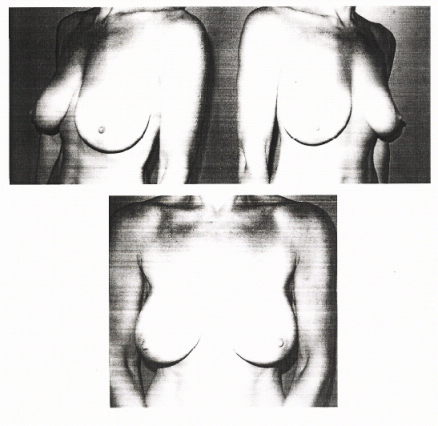 Step Two - Scheduling your plastic surgery at bioplastica clinic
After contacting bioplastica clinic on the phone +55-021-2284-1721 , the scheduling process begins. Our attendants will offer available dates for your surgery. A deposit (payable by check or credit card or pay-pal ) will be required to secure dates, and final payments will be collected at the pre-operative visit.
Step Three - Recovery from your cosmetic surgery : cosmetic travel and medical tourism is easy at bioplastica
Typically fly-in patients must plan to stay in Rio de Janeiro for approximately 10-15 days. (Ask about our hotel accomodation rates). Depending on the amount of surgery performed, this length of stay may be adjusted; however, it is important to allow for the proper amount to ensure a healthy and safe recovery. We want your trip home to be a pleasant one, and that means following all of our guidelines. If eventually, you may feel a need for medical assistance after returning home, we are available to refer you to a local physician for check-ups. Your health and safety are our number one priority at bioplastica clinic.
You will return home delighted and rested... Everyone will agree, your "vacation" took years off your appearance!